Sale!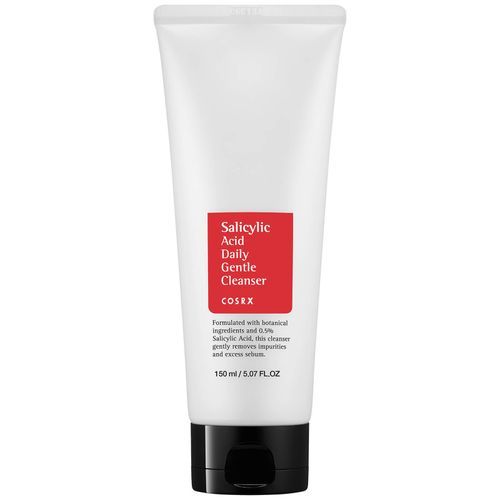 Acne treatment Cosrx Salicylic Acid Daily Gentle Cleanser 150ml
Sale!
In stock
Banish acne and breakouts with COSRX Salicylic Acid Daily Gentle Cleanser. Infused with a potent blend of Tea Tree Oil, Willow Bark Water and 0.5% Salicylic Acid, this nourishing cleansing face wash gently removes dirt, excess oil and build-up of impurities, fights pimples and blemishes, leaving skin soft and smooth. Ideal for all skin types including sensitive. What it does: COSRX Salicylic Acid Daily Gentle Cleanser is a delicate, and multi-tasking moisture that purifies, balances and brightens while also gently eliminating makeup residues, dirt, oil, and impurities all in one simple step! As effective acne treatment this cleanser is luxurious, it nourishes as it cleanses, crafted from only the highest-grade facial acids and natural extracts. Starring Salicylic acid, it exfoliates dead skin, removes makeup, controls excess oil, reduces the appearance of enlarged pores, blackheads, and breakouts as well as promoting a more even skin tone, without any dryness or discomfort.
Description
Acne Treatment. A Salicylic Acid Exfoliating Cleanser that reduces acne breakouts and promotes clearer skin; Salicylic Acid removes dead skin cell and make room for new skin cell; It also contains Tea Tree Leaf Oil which has anti-inflammatory effect and sterilization action; Micro Creamy Soap System makes perfect cleansing!
BHA cleanser eradicates difficult-to-remove dead skin cell and skin trouble"
Additional information
| | |
| --- | --- |
| Skin Ingredients | |
| Skin Concerns | |
Reviews (0)