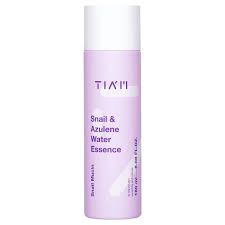 Tiam Snail & Azulene Water Essence
₦8,200
Out of stock
Tiam Snail & Azulene Water Essence Snail mucin and azulene have a soothing effect and reduce redness. Azulene is an extract from Chamomile, which has a beneficial effect on maintaining moisture in the skin, renews skin cells and soothes inflammation. The essence also contains betaine and allantoin to restore hydration and strengthen the skin barrier. Tiam Snail & Azulene Water Essence
Description
Tiam Snail & Azulene Water Essence
Formulated with 87% snail secretion filtrate and azulene extracted from chamomile to soothe irritated skin and leave it moisturized.
-Prevents moisture loss and restores skin balance.
-Alcohol-free.
Suggested Use
1. After cleansing, pour a moderate amount onto the palm of your hand.
2. Apply to the entire face and gently pat for better absorption.
3. Apply multiple layers for a better moisturizing effect if
necessary.

Additional information
Reviews (0)