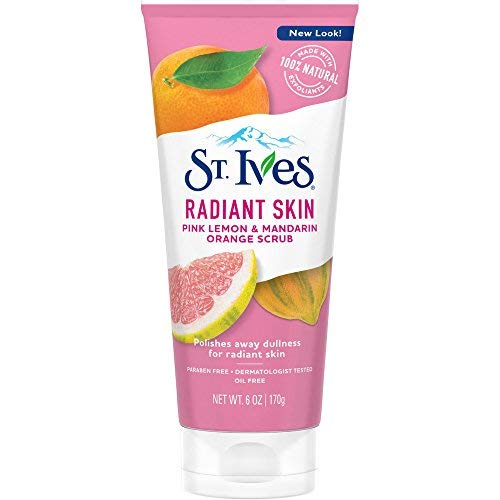 St. Ives Radiant Skin Pink Lemon & Mandarin Orange Scrub 150ml
₦4,500
Only 1 left in stock
When life gives you lemons, make a delicious citrusy scrub. Infused with natural pink lemon and mandarin peel extract, this face scrub has a moderate exfoliation level for radiant skin. Use it 3-4 times a week for beautifully polished skin that glows. Note for the pros – use it before makeup for a lovely smooth base. Ideal for dry or sensitive skin types. Polishes away little imperfections for bright, radiant skin Instantly reveals skin's natural radiance Made with 100% natural exfoliants Moderate exfoliation factor Paraben free Dermatologist tested & non-comedogenic (meaning it doesn't block your pores)
Description
How To Use
Squeeze a dime sized amount of Radiant Skin Pink Lemon & Mandarin Orange Scrub onto your fingertips and massage onto damp skin.
Spread in small circular motions, applying gentle pressure to wake your skin's natural circulation.
 Work all over, right up to your hairline and onto the sides of your nose.
When you're done, rinse and pat dry with a clean towel.
Use 3 to 4 times a week (depending on skin) for best results.
Additional information
Reviews (0)