Sale!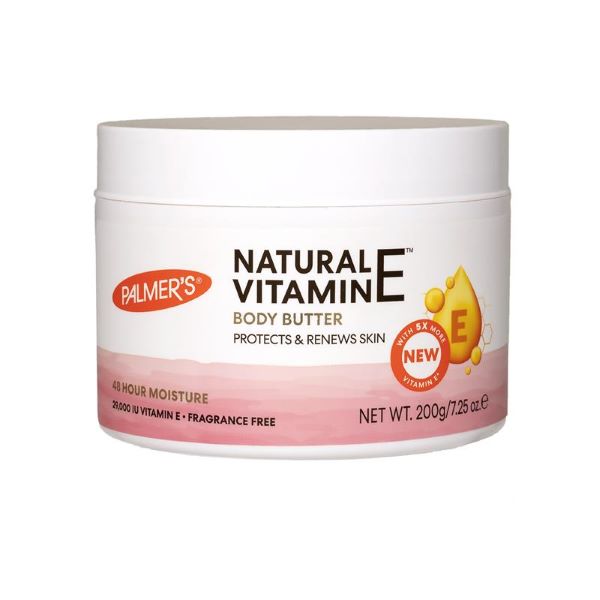 Palmer's Vitamin E Body Butter
Sale!
In stock
Palmer's Vitamin E Body Butter Protect and renew dry, damaged skin with Palmer's Vitamin E Body Butter, crafted with an intensively nourishing blend of Vitamin E, Cocoa Butter, and Avocado. Visibly improves stressed, damaged skin for healthier, younger-looking skin. Palmer's Natural Vitamin E Body Butters' 48 hour moisturizer is vegan-friendly, fragrance-free, hypoallergenic, and dermatologist tested. With 95%+ naturally derived ingredients you can trust, this body butter is clinically tested as suitable for sensitive skin and eczema-prone skin.
Description
Palmer's Vitamin E Body Butter
Protects & Renews dry, damaged skin with highly concentrated Natural Vitamin E for superior skin repair and visibly healthier, younger-looking skin
48 hour moisture
Vegan Friendly – No animal ingredients or testing
Fragrance Free, Hypoallergenic, Dermatologist Approved
Clinically tested as Suitable for Sensitive Skin & Eczema-Prone Skin
Free of Parabens, Phthalates, Mineral Oil, Dyes
29,000 IU Vitamin E
95%+ Naturally Derived Ingredients
America's #1 Cocoa Butter Brand
Perfect for dry patches, damaged skin, scars, marks, rough patches, or uneven skin tone
5x more Vitamin E than the average vitamin E capsule dose*
Layering Tips: AM/PM Step 1: apply Concentrated Cream to any dry, patches, marks, scars or spots. Step 2: apply Body Butter to extra dry areas such as knees, elbows, feet or hands. Step 3: apply Lotion all over body, focusing on larger areas such as arms, legs and decolletage. Step 4: Lock in moisture and visibly boost healthy-looking skin by applying Body Oil all over body.
Additional information
Reviews (1)