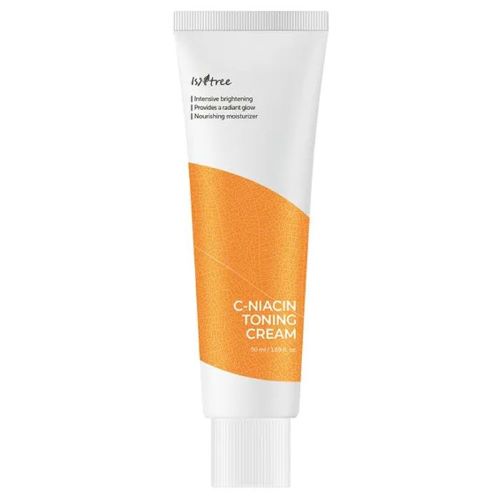 Isntree C-niacin Toning Cream 50ml
₦8,900
In stock
Isntree C-Niacin Toning Cream 50ml is a hydrating everyday facial moisturizer for all skin types but is especially great for those looking to fade dark spots and brighten the complexion. Key ingredient sea buckthorn has ample vitamin C and antioxidants to help the skin retain moisture, repair sun damage and blemishes, and boost collagen. This lightweight facial cream also contains niacinamide to minimize the appearance of pores, smooth out fine lines and wrinkles, plus firm and strengthen the skin barrier, among other skin tone-evening benefits. For optimal results, use after the Isntree C-Niacin Toning Ampoule. pH of 6.1±0.5. This product is cruelty free and formulated without artificial fragrances and colors, parabens, sulfates, animal products, alcohol, mineral oils, essential oils, or silicone. 1.69 fl. Oz. / 50ml
Description
Isntree C-Niacin Toning Cream  50ml is a hydrating everyday facial moisturizer for all skin types but is especially great for those looking to fade dark spots and brighten the complexion.
Key ingredient sea buckthorn has ample vitamin C and antioxidants to help the skin retain moisture, repair sun damage and blemishes, and boost collagen. This lightweight facial cream also contains niacinamide to minimize the appearance of pores, smooth out fine lines and wrinkles, plus firm and strengthen the skin barrier, among other skin tone-evening benefits.
How To Use
Apply after cleansing and toning.
Use as a spot treatment on dark spots or all over the skin for a general brightening effect!
Additional information
| | |
| --- | --- |
| Skin Concerns | |
| Skin Ingredients | |
Reviews (0)