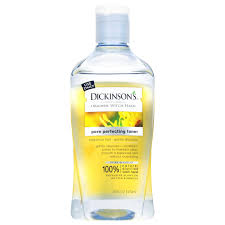 Dickinsons Original Witch Hazel Pore Perfecting Toner 16oz
₦5,500
Out of stock
Our Dickinsons Original Witch Hazel Pore Perfecting Toner 8oz's unique 100% natural formula for skincare combines extracts of the witch hazel plant to thoroughly cleanse and condition your skin. Unlike other astringents, our gentle formulation cleans deeply to remove the last traces of make-up, soap residue and excess oil – without the use of artificial ingredients that may overdry your skin. Use as the final step in your cleansing routine to leave your skin feeling soft, smooth and refreshed! Simply splash directly from the bottle or apply with a cotton ball or pad. Gentle Non-drying. Cools & Refreshes. 100% All Natural Dermatologist Tested & Recommended. For the best result, it can be used with skin doctor toner or skin doctor cleanser. Check through the skin doctor cleanser review for more details.
Description
Ingredients
All Natural Distilled Witch Hazel (Containing Natural Grain Alcohol 14%), Organic Witch Hazel Extract.
Directions
Moisten reusable cotton round and apply to the face and neck. Use daily to purify and refresh your skin.
Additional information
Reviews (0)