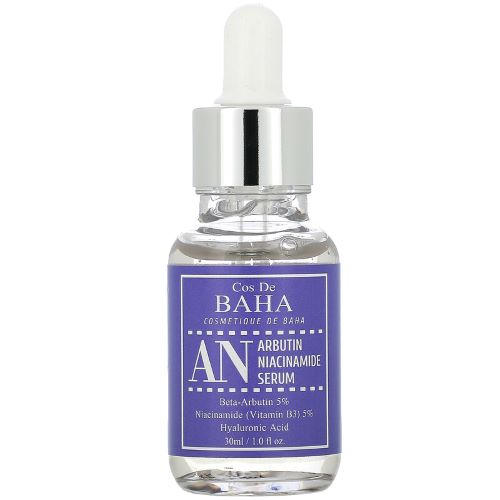 Cos De Baha- AN Serum
₦9,500
In stock
Cos De Baha- AN Serum Niacinamide is a derivative of Vitamin B3. It also helps inhibit the production of melanin. So, these two ingredients work together to help reduce darkness in skin pores. In addition, Alpha arbutin may also help lighten skin by helping to exfoliate the skin.
Description
Cos De Baha- AN Serum
MEDICAL RESEARCH HAS PROVEN that arbutin is very effective in treating pigmentations, age spots and it can also inhibit the negative effects of UV-radiation thanks to its sun protection properties.Arbutin evens out skin tone and is also effective in treating acne scars.
Arbutin can also be combined with other skincare ingredients to maximize its efficacy, for example, with an alpha-hydroxy acid (AHA) to exfoliate skin and facilitate its absorption of arbutin. When paired with Vitamin C, arbutin imparts even skin tone with improved radiance.
Direction – After cleansing and toning your face. Apply 1~2 drops of serum at night and day. Do not wash or wipe after applying the serum. After applying this serum, we recommend using a skin moisturizer. Massage a small amount of cleanser to wet skin, avoiding eye area.
Sensitivity – Is your skin sensitive? Please mix with other Pure Serum. If your skin has fully adapted to the ingredients, you can expect faster results with only the product in question. Or use our 5% niacinamide toner first.
Cos De Baha- AN Serum
Additional information
| | |
| --- | --- |
| Skin Ingredients | |
| Skin Concerns | |
Reviews (0)