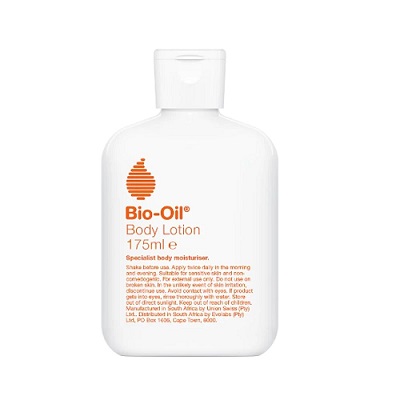 Bio Oil Body Lotion 175ml
₦5,200
In stock
Bio Oil Body Lotion 175ml pioneers a new level of lightness and efficacy in body moisturisation. A ground-breaking formulation with more than double the oil content compared to other moisturisers combined with a feather-light feel. This unique combination of being ultralight yet high in oil is made possible by Bio-Oils' pioneering 'shake before use' formulation. Made with the finest, ethically sourced ingredients. Free-from: parabens, preservatives, GMO ingredients, palm oil, phthalates, phytoestrogens, topical steroids, folic acid, hydroquinone, food allergens. Suitable for Vegans. Not been tested on animals. Halaal and Kosher certified. Recyclable packaging. Benefits: Bio-Oil Body Lotion 175ml is the ideal daily body moisturiser. Its clinically proven high-oil formulation is ultralight and non-greasy, and delivers sheer Long-lasting moisturisation leaving skin feeling silky soft and smooth. How to use: Shake before use apply twice daily in the morning and evening. suitable for sensitive skin and non comedogenic
Description
Bio Oil Body Lotion 175ml pioneers a new level of lightness and efficacy in body moisturisation. A ground-breaking formulation with more than double the oil content compared to other moisturisers combined with a feather-light feel. This unique combination of being ultralight yet high in oil is made possible by Bio-Oil's pioneering 'shake before use' formulation. Made with the finest, ethically sourced ingredients. Free-from: parabens, preservatives, GMO ingredients, palm oil, phthalates, phytoestrogens, topical steroids, folic acid, hydroquinone, food allergens. Suitable for Vegans. Not been tested on animals. Halaal and Kosher certified. Recyclable packaging.
Benefits:
Bio Oil Body Lotion 175ml is the ideal daily body moisturiser.
Its clinically proven high-oil formulation is ultralight and non-greasy, and delivers sheer
Long-lasting moisturisation leaving skin feeling silky soft and smooth.
How to use:
Shake before use apply twice daily in the morning and evening. suitable for sensitive skin and non comedogenic
Additional information
Reviews (0)