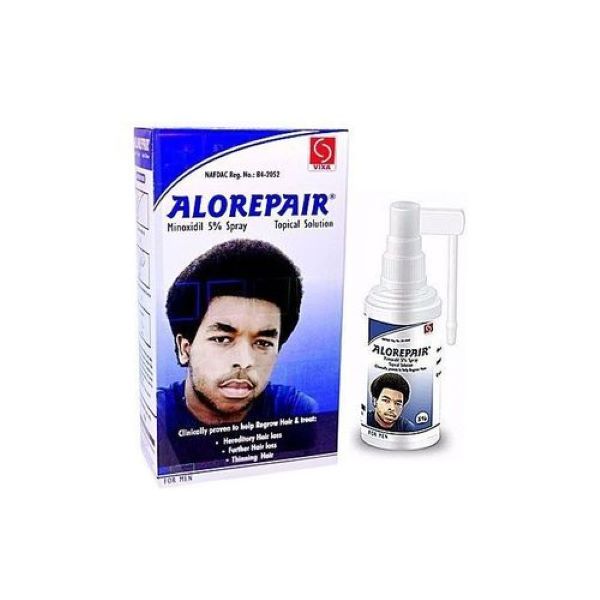 Alopecia Treatment Alorepair Minoxidil 5% Spray For Hair Growth and Hair Loss
₦6,000
In stock
Alorepair can be used for male baldness and alopecia treatment in women and is an effect hair loss treatment. ALOREPAIR is a topical solution for the treatment of alopecia adrogenetica (male pattern baldness of the vertex of the scalp and in females as diffuse hair loss or thinning of the frontoparietal areas). The response is better when the patients use ALOREPAIR directly after hair loss. At least four months of twice-daily applications are generally required before evidence of hair growth can be expected. If a patient responds to treatment, he will need to continue using ALOREPAIR to maintain hair growth. Clinically proven to help regrow hair and treat hair loss
Description
Alopecia treatment. Alorepair Minoxidil 5% Spray is used for hair growth and hair loss.
5% solution of ALOREPAIR is. applied twice daily to the scalp.
The obvious benefit of minoxidil is that in a large percentage of people see positive results and increased hair growth after consistent use of the ingredient. "Topical minoxidil helps to prevent shedding of hair, as well as "increased hair thickness and density,"
Alorepair can be used for male baldness and alopecia treatment in women and is an effect hair loss treatment.
Additional information
Reviews (0)