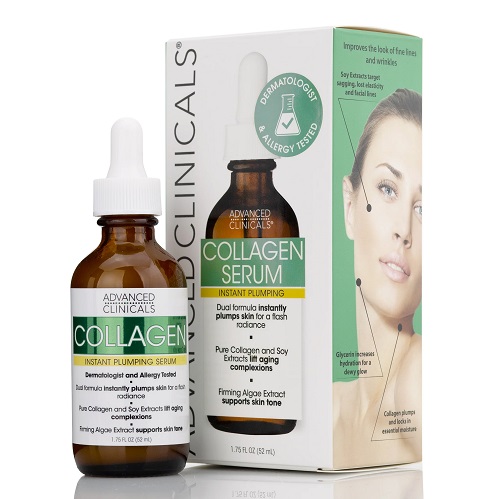 Advanced Clinicals Collagen Face Serum
₦12,000
Out of stock
Advanced Clinicals Collagen Face Serum With Anti-Wrinkle Soy Extract Dual Formula Instantly Plumps Skin for a Flash Radiance Pure Collagen and Soy Extracts Lift Aging Complexions Firming Algae Extract Supports Skin Tone Improves The Look of Fine Lines and Wrinkles Soy Extracts Target Sagging, Lost Elasticity and Facial Lines Glycerin Increases Hydration for a Dewy Glow Collagen Plumps and Locks in Essential Moisture
Description
Advanced Clinicals Collagen Face Serum
With Anti-Wrinkle Soy Extract
Dual Formula Instantly Plumps Skin for a Flash Radiance
Pure Collagen and Soy Extracts Lift Aging Complexions
Firming Algae Extract Supports Skin Tone
Improves The Look of Fine Lines and Wrinkles
Soy Extracts Target Sagging, Lost Elasticity and Facial Lines
Glycerin Increases Hydration for a Dewy Glow
Collagen Plumps and Locks in Essential Moisture
Advanced Clinicals Collagen Face Serum
Apply pea-sized amount of Collagen Instant Plumping Serum to face and body, if desired. Focus on specific areas to reduce the look of wrinkles. Wait for serum to absorb. Use daily and nightly depending on skin preference and desired results.
Additional information
| | |
| --- | --- |
| Skin Ingredients | |
| Skin Concerns | |
Reviews (0)