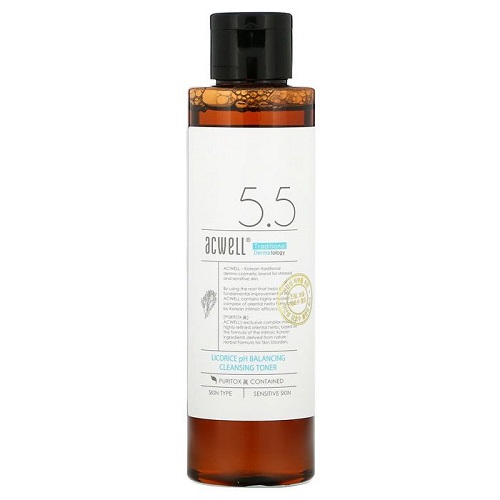 ACWELL Licorice pH Balancing Korean Toner for Cleansing 5.07 fl.oz. – PH5.5 Hydrating Makeup Cleansing Astringent – Skin Clearing, Reduce Pigmentation, Acne and Dark Spots
₦8,500
In stock
Acwell Licorice pH Balancing Toner has a pH level of 5.5 to effectively balance your skin. Peony extract and a high concentration of licorice water – both natural brighteners – seep into the skin to add an extra dose of luminosity to your complexion. Green tea extract also helps calm and reduce pigmentation, including acne scars and dark spots. After use, skin feels clean and smooth, not dry or tight. Because it's so good at removing any impurities left on the skin post-cleanser, it helps the rest of the products in your routine absorb better.
Description
LOW pH CLEANSING FACIAL CLEANSING WATER: Acwell Licorice pH Balancing Korean Toner for Cleansing container roots of licorice and amino acid complex. This facial cleansing water for sensitive skin maintains a pH level of 5.5-6 that effectively cleanses the skin while regulating the oil & pH levels.
FOR ANY SKIN TYPES: This cleansing water can be used in the morning to create the perfect canvas for makeup application, midday as a refresher, and night after cleansing to whisk away remaining impurities. For normal, oily, dry, and combination skin types. Acwell Korean Toner for Cleansing has a pH of 5.5, effectively resetting the skin's natural pH after cleansing.
REDUCES PIGMENTATION: Licorice root extracts and amino acids in our gentle Korean toner helps to restore the moisture barrier. Acwell cleansing water helps to diminish the appearance of dark spots to give you soft and radiant skin while making it look young.
How To Use
After cleansing, pour a few drops of the toner into your hands or onto a cotton round, and gently apply to skin.
Additional information
| | |
| --- | --- |
| Skin Ingredients | |
| Skin Concerns | |
Reviews (2)